Villa Keira - Luxury Villa, Playa Blanca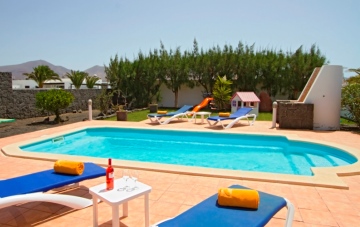 Welcome to Villa Keira
Villa Keira is a luxury villa located in Playa Blanca, Lanzarote in the Canary Islands. The villa is available for rental as a holiday home for your vacation.
The villa sleeps 4 plus baby and has an extensive sun patio area, a private heated swimming pool and a hot tub. It also has a large roof terrace to enjoy the surrounding views and is ideal for couples or families.
Inside, the villa is furnished to a high standard and is fully equipped for all your entertainment needs with Wi-Fi, DVD's, Books and a good selection of UK, Irish, Freesat and Spanish TV Channels.
The Villa is located in the Costa Papagayo area of Playa Blanca and is a twenty minute walk from the seafront promenade and Playa Dorada Beach.
The town centre is a further short walk westward along the promenade and the newly built marina is a short walk eastwards along the promenade. Both have a fine selection of restaurants and bars to suit all tastes.
Lanzarote has an enviable year round climate and is a popular year-round holiday destination. Playa Blanca is the southernmost resort on the island and enjoys the best climate of all the major resorts.
So what are you waiting for? - to find out more follow the links.
Villa Keira All Rights Reserved.